Dental Implants at The Dentistry
Do you wonder what your smile would look like if there wasn't a gap where you're missing a tooth? You can benefit from the most advanced solution for single tooth or multiple teeth replacement at The Dentistry. Dental implants restore the full look and function of your smile and bite without negatively impacting the surrounding teeth.
What Are Dental Implants?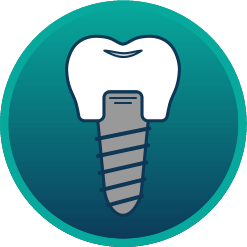 Put simply, it's a screw that acts as the root of the tooth, which is inserted into your jaw. After a healing period has passed, a crown is placed on top.
Why Choose Dental Implants?
This increasingly popular option is:
Natural in appearance
Convenient
Helpful in maintaining bone mass to prevent further tooth loss
What are Mini Dental Implants?
Mini dental implants, or MDIs, are a quick and cost-effective solution that works for many in place of regular dental implants. There is a shorter healing period involved with a less invasive procedure and reduced postoperative discomfort. It can even be used to anchor your dentures just like regular dental implants.
How do I know what's right for me?
We'll evaluate your oral health to determine if dental implants are the most suitable solution for your particular situation. If so, we'll talk to you about the process and exactly what you can expect so that you can decide if it's what you'd like to do.
Contact us today to get started! We're preferred providers for Medibank, BUPA and CBHS and offer payment plans.
CONTACT US

Dental Implants Macquarie St Sydney CBD NSW | 02 9232 6754