Dentures Macquarie St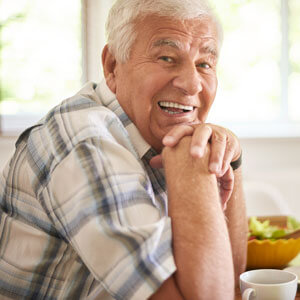 The team at The Dentistry provides an array of services to suit you. No matter what your level of oral health may be, we are here to make sure that you love the way your smile looks when you're done with treatment. If you are missing teeth, there is no reason to miss out on the foods you love or feel embarrassed to smile. We can make dentures that are customised to fit you and to look perfectly natural with your entire facial profile in mind.
How Dentures Work
A denture fits into the space where your teeth used to be, attached snugly to your gums. They can be created in full or partial forms. If you still have some of your teeth, a partial denture will be most suitable. If you're missing all of your teeth, a full denture is ideal for you.
The materials that we'll recommend for your denture will be based on your needs and your budget. We will review all options with you so that you can decide what you would like to do.
FAQ
What are the advantages of dentures over other tooth replacement solutions?
There are other services that we provide to replace missing teeth such as immediate den-tal implants and dental bridges. Many of our patients choose dentures because of the ease involved with them. You'll wear them during the day, then take them out at night to be cleaned. They also give several different options to suit your particular requirements, which makes most people a candidate for dentures.
What will my dentures look like?
We will work with you to create your dentures to your specifications and what looks nat-ural for you. Your existing teeth, smile and face will all be considered with our recom-mendations. You always have the choice of how you'd like to proceed, and we honour your wishes.
What is involved in the process of getting dentures?
You'll need to start with two appointments. During the first visit, we'll take impressions and measurements. These are sent to our laboratory to fabricate your denture. When it's returned to us completed, you'll have a fitting appointment. We'll make sure that your dentures fit you well and let you know when to return for checkups and how long it will take you to get used to your new dentures Macquarie St.
Get Started Today
You deserve to feel proud of your smile. Contact us today to book a consultation for den-tures! We accept health funds and are providers for Bupa, Medibank and CBHS.
CONTACT US

Dentures Macquarie St Sydney CBD NSW | 02 9232 6754