Cosmetic Orthodontics at The Dentistry
If you're one of the majority of people who weren't born with a perfect smile, we understand that you may not want to wear the traditional metal "train tracks" style of braces.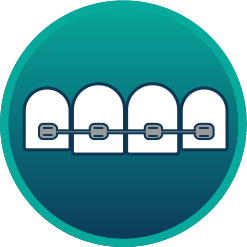 At The Dentistry, we offer Smilefast™ orthodontics that:
Are easy to clean
Have quick treatment times
Use white wires and clear brackets
What Enables Such Rapid Results?
In just 6-9 months, you can get the more aligned look you want thanks to the revolutionary Smilefast technology. It gives your dentist an extremely detailed digital, 3D model of your teeth that allows for the precise placement of every bracket. This positioning is the most vital aspect to facilitating rapid tooth movement. The braces are then transferred to your teeth with the unique transfer trays used in Smilefast.
What Types of Issues Can Smilefast Help?
Suitable for adults, Smilefast is designed to assist with spacing, crowding, protrusion and crooked teeth, amongst others.
Does It Hurt?
Our patients report that their braces are comfortable during the entire course of treatment. Some may feel sensitivity in the few days following the placement of the braces, but this issue is quickly resolved.
Is It Expensive?
With such quick treatment times, you'll require few visits and therefore, Smilefast doesn't cost what other orthodontic solutions do. Costs can be a barrier to dental care, and we seek to remove these obstacles by accepting health funds and offering a range of payment plans.
Contact us today to learn more about cosmetic orthodontics in Macquarie St!
CONTACT US

Orthodontics Macquarie St Sydney CBD NSW | 02 9232 6754