Restorative Dentistry at The Dentistry
Did you know that tooth enamel is the body's hardest substance – even harder than your bones? Though that may make it seem as if enamel is indestructible, teeth are still susceptible to damage.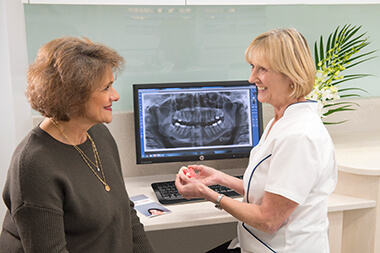 Proper brushing and flossing habits coupled with your regular cleaning and examinations at The Dentistry will help you have a healthy, bright smile for life. But sometimes, when decay or trauma strike, your teeth can affect how you look and the way you feel.
Restorative dental services can address these problems and give you back your self-confidence.
Full Mouth Restoration
If you require more complex treatment, we'll work with you to determine which solutions best suit your goals and create a treatment plan that's tailored to you.
Veneers
A thin cover placed over the front teeth can correct stains, gaps or chips for a sparkling, bright look.
Get The Smile You Want
Schedule an appointment today! Your health fund coverage can be used for your visit.
CONTACT US

Restorative Dentistry Macquarie St Sydney CBD NSW| 02 9232 6754